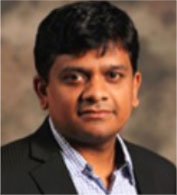 Employee Path
Sameera
Associate Director, PROS INDIA
PROS INDIA offers regulatory operations and regulatory affairs solution to clients.
I joined Parexel in May 2015 and I am enjoying every bit of my experience here.
I am a Dentist by education and I have developed an interest in creating a career in the corporate world, due to this interest I attended a Master of Science course in clinical research. After passing my master studies successfully, I worked in the Business Process Outsourcing & Knowledge Process Outsourcing industry and innovator pharmaceutical industry. Since I had never worked for a Clinical Research Organization (CRO) before, I decided to pursue my career with Parexel. The brand value of Parexel within the CRO industry attracted me to join this organization. I also heard about the inclusive work culture and vast career development opportunities within the organization, this helped me to accept the role of Associate Director, Parexel Regulatory Outsourcing Services (PROS) Bangalore, India.
I have multiple responsibilities in my current role; I manage a team which delivers regulatory submission packages to various health authorities, I am also responsible for cross organizational business initiatives in order to increase the revenue of the department, along with this I assist in the transition of new businesses to PROS India again with the collaboration of other departments in Parexel.
I am also a member of PROS leadership team to facilitate departmental strategies.
I believe business acumen, project management and interpersonal skills play an important role in succeeding as an Associate Director. I enjoy participating in strategic business decisions which provides win-win outcomes to both the organization and employees.
Outside work, I spend most of my time with my two young children and sometimes I try to apply my culinary skills in our kitchen. Overall, I appreciate the work life balance provided by Parexel.
Finally, I admire being a part of the Parexel family which enables alleviation of suffering faced by the patients and I look forward to spending many more years of my professional career with Parexel.