Getting the most out of learning at Parexel
We believe that investing in your professional and personal development is an investment in Parexel, and we want to help you realize your full potential and career. Ensuring we have a fully trained and capable workforce is a key part of delivering quality work and patient safety.
"At Parexel we can offer you the development support to go as far as you want to go."
Melissa Milani, Vice President, Learning & Development
Learn more about...
how Parexel supports your professional and personal development.
how you will participate in the training you need and want.
our mission to arm our colleagues with the skills that they need to support our clients and our patients.
In order to ensure the highest quality of work for our clients and for the sake of our patients, the Learning and Development (L&D) department takes a targeted and balanced approach to support both the immediate training needs and the long-term development investment in our employees.
What kind of training will I receive?
Corporate training
There are standard processes and policies that all Parexel employees need to be aware of, regardless of role or location. Parexel will assign these through a Corporate Curriculum assignment that will come to you automatically through the Learning Management System (LMS).
Functional (Role Specific) training
There is required and recommended training for most key roles at Parexel (such as Clinical Research Assistants, Project Leaders, Functional Leads, etc.). These assignments will be made by your direct line manager through LMS and should be kept up to date. Please work with your line manager (LM) to ensure all training you have assigned is accurate.
Project Specific training
For those supporting project work, it is likely you will be assigned trainings specific to the projects you are working on. Again, it is vital to ensure these remain accurate and up to date. Work with the Project Specialists on your projects to manage any updates.
Professional and personal development
Parexel offers a wide variety of training programs that support your professional and personal development. You will work with your line manager on how to include them within your development plan, and be the CEO of your own career.

Spotlight on professional and personal development
Navigating your career
We empower you by offering virtual career and development programs to build meaningful experiences at key milestones.
We've created programs supporting:
New or recently promoted employees seeking the knowledge to increase their contribution and get clarity on their role.
Employees with a tenure of 1-2 years wanting to increase their engagement, satisfaction levels and clarity around their aspirations and potential development opportunities.
Employees with a tenure of 3-6 years (by LM nomination only), wanting to increase their organizational acumen and maintain and build a professional network.
Advancing women's leadership
Parexel's initiatives are designed to inspire and empower women who show promise as future leaders and are interested in taking their careers to the next level.
By nomination we are offering programs for:
Manager level +: 9-month peer coaching and internal mentorship program "WISDOM Circles"
Director level +: 1-year peer coaching with external mentorship and a 3-day conference at our or our "Women in Leadership" program
CVP level +: 1-year external "Women unlimited LEAD" program.
Diversity, Equity and Inclusion
We offer DE&I programs and external partnerships in support of our goal to expand awareness of inclusion and to provide ongoing career development opportunities for a wide range of individuals.
Expanding Awareness & Inclusion: All employees have a mandatory "Inclusion & Diversity is Parexel" training, open to all employees are training modules around Unconscious Bias and Inclusion.
Leadership development programs + partner membership options within these three topics:
Women in Leadership
Gender Partnership
Multicultural Talent

Managing With Heart
The Managing With Heart Program teaches new managers the essential skills - from foundational management principles to performance management, and more - to motivate employees and drive high engagement and performance in our organization. Using a combination of virtual instructor-led training, on-demand learning collections, peer discussions and coaching. Managing With Heart provides Parexel managers with the chance to develop skills to drive higher performance, lower turnover, and increased accountability - all tenets of our We Care Strategy.
On-demand learning platform
Parexel is committed to providing Management and Professional Development opportunities aligned with our We Care philosophy and people-focused culture. The decision to invest your time into your career development is an important one, and it is imperative that you find the best career development options for your needs.
Lunch & Learn
Our L&D department is offering Lunch & Learn sessions several times a month for each region. The sessions are one-hour long, which you can participate in at your lunchtime. The topics span over career and personal development, DE&I, intercultural working, resilience, insights into other roles or departments at Parexel, as well as job-related updates on guidelines, etc.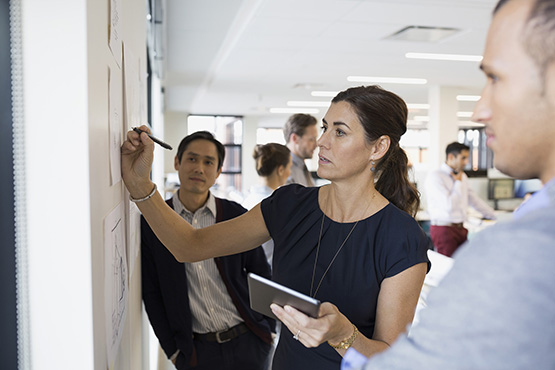 Parexel Academy: Your Trusted Partner in Learning
Whether you are getting started in the biopharmaceutical industry, a seasoned vet looking to keep growing your career, or somewhere in between, we can support your professional development through our diverse array of learning solutions. Learn more here.