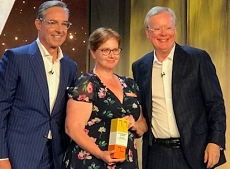 WorkHappier™ Award 2019
BI WORLDWIDE awarded Parexel the WorkHappier™ Award for the success of our Parexel Recognition Program. Nancy, former Benefits Manager at Parexel, accepted the award on behalf of Parexel.
The WorkHappier™ Award recognizes our exceptional commitment to employee engagement and recognition and highlights the careful consideration and attention to detail taken to launch our global employee recognition program to 19K+ employees. Addressing technology, languages, and cultural differences were key to ensuring the program would succeed. Now in its fifth year, the engagement of employees with the program speaks for itself.
More than 95 percent of employees have logged into the website to participate, and more than ten countries have achieved 100 percent participation.
An average of 350 recognitions are sent each day.
In the second quarter of 2019 (calendar year), 350,000 recognitions were sent using the program.