Begin your career journey at Parexel
We hire emerging talent and current students into a variety of positions across all regions and business units. You will be at the heart of getting medicines to those who need them most.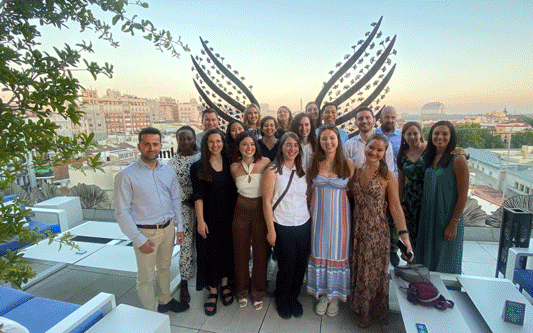 Gain insight into one of the leading global Clinical Research Organizations, and work to develop your own scientific profile. Start as an Intern or Graduate to expand your expertise and skills to set the foundation for future success in your professional life.
You will be part of a team dedicated to accomplishing great things together; you will learn how we take personal responsibility for making success happen, and how individual skills add value in a collaborative culture.
Our Emerging Talent Programs
APEX CRA Program
The Accelerated Program of Education, Exposure, and Experience for CRAs (APEX CRA) provides foundational clinical research training - including project and system experience - to new CRA hires who are recent college graduates and have less than a year of monitoring experience.
Our APEX Program hiring cycles, for both AMER and EMEA, are on a regular cadence which align with our business needs. At various times we might not be actively recruiting as we are in-between hiring cycles for the next class. Please check this site for regular updates as all open and available APEX CRA position locations are posted here.

Learn More
Path to Project Leader Program
The Path to Project Leader Program provides the opportunity for highly talented, motivated, and quickly progressing candidates to join the clinical research industry in a Senior Project Specialist role to acquire deep clinical research and project management knowledge and progress to an Associate Project Leader role within eight months.

Apply now

Watch the video to receive:
An overview of the program (0:25)
Insights from former program participants:

How do Pharmacists bring value to Clinical Research (2:55)
What is their experience with the program? (3:40)
Why should you join Parexel? (6:00)
Our Placements / Internships / Traineeships
Clinical Operations Assistant
Launch your career in Clinical Research, join our experienced team and become part of a dynamic and patient-centric environment.
Statistical Programming Placement
Join our group in analyzing and reporting Clinical Trials. You will work with an assigned mentor during your placement to help with your training and development. Duties would include producing datasets, working on statistical outputs such as statistical tables and graphs, and data listings, and utilizing SAS® Software.
Why Parexel Is a Great Place to Work
At Parexel, we define ourselves by the difference we make and by the compassion we share while making it. We advance science by keeping the patients at the heart of everything we do. We believe in each other, and that allows us to accomplish great things ourselves.
Four reasons why recent graduates should choose Parexel
Parexel values the diversity of perspectives and experiences that our employees bring to the organization.

Our corporate DEI strategy is built on 3 pillars (people, patients, suppliers) and Parexel has 18 different DEI committees to become involved with.

We foster a culture that makes everyone feel valued, respected, and supported to build teams where everyone works With Heart™.

We are building pipelines of talent in our crucial job families worldwide.
Tips and tricks for your application
Our Emerging Talent Events
During long-standing connections with universities around the world, we recruit top talent at several events throughout the year. You can meet us at University Recruitment Fairs, Diversity Hiring Events, and at the Boston Career Forum.
Check out our current events:
Patients first – Parexel employees share how they work with the patients in mind.
JOBS FOR YOU
You currently have no saved jobs to view.
Make sure to accept the Functional cookies to enable this module to display saved job links. You will be able to review them here when you revisit this page.
Sign up for our Talent Community
Sign up and we'll reach out with job alerts when positions that match your career interests become available. We'll also share periodic updates about the latest company news and events.