Meet Kanika Verma: Manager in Finance (India)
"My overall experience at Parexel has been fantastic and I am grateful for the opportunities that have been offered to me throughout. It has a great work environment where people are productive, enthusiastic, and fun to work with."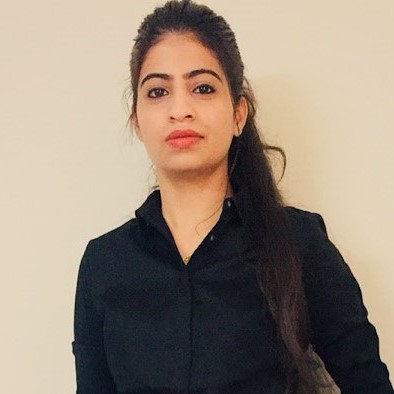 Kanika Verma, Manager in Finance, shares with us how her role is being a co-pilot to Project Leaders in setting up project strategies and guiding decision-making. Kanika tells us how she progressed from Financial Analyst to her current role! She also discusses the skills required to be successful as a Finance Business Partner.
Please introduce yourself and your role at Parexel.
Hi, I am Kanika Verma, and I have just completed my fourth wonderful year with Parexel. I joined back in May 2018 as a Financial Analyst in Strategic Finance and under great leadership, I climbed up the ladder to Senior Financial Analyst, to Principal Finance Business Partner (FBP) and now Manager in Finance. Prior to Parexel, I worked in the Sugar Industry as a Finance Executive for a shy of a year. I was born and brought up in Chandigarh (India). As regards my qualifications, I completed my Chartered Accountancy in 2017 and my Bachelors in Commerce in 2015.


Can you tell me what a day in your job looks like? What are your core responsibilities?
As Financial Analysts, we establish ourselves as co-pilots along with Project leaders (and/or Functional Leaders) in steering a set of projects to their targeted financial goals (e.g. revenue, profitability, cash flow, etc.). We interact directly with project leaders, help set project strategy, support project decision making, and guide future project decisions based on their impact on project financial performance and hence act as a 'Trusted Advisor' to the Operational team. Our key accountabilities include Analysis & Reporting; Revenue recognition; Reviewing Actuals, Budget, and Forecast; Variance Analysis; Margin Analysis; Revenue Control Testing and Handling Project Audits, etc.

Since I have recently been promoted to Principal FBP I now have people management responsibilities and as such, I have recently been invited into a managerial training program.

When did you join Parexel, and why did you choose Parexel above our competitors?
I joined Parexel in May 2018 and it has been four amazing years with this organization. First, the job offered was very well aligned with my skill set and interest areas i.e., diving into the sea of Revenue, Forecast & Analysis which in turn impact the Financial Statements of an organization. I was intrigued by the CRO industry and how Parexel is focused on developing innovative new therapies to improve health. Most importantly, everything that Parexel does is "With Heart" & "Patient First", and for me, that's what makes it stand out among the competitors and a key reason which pushed me to join this organization.

What traits and/or skills are needed to be successful in your role?
This role requires the ability to conduct complex analysis by understanding the underlying drivers of an issue; excellent task management skills & prioritization of deliverables; proactive communication of issues/concerns, with analysis for mitigation; strong knowledge base of systems and financial tools; strong accounting and finance acumen; decent presentation skills and mentoring abilities for training new employees.

What would you like people to know about your job or department?
Project Finance falls under the Strategic Finance Business Unit where project health is looked after i.e., by reviewing revenue; forecast; budget; variance/cost/margin analysis; cash flow; unbilled deferred position and billed Accounts Received of a project. We continuously assess opportunities and risks and proactively facilitate managing them. We build a relationship with the client where we become an extension of their finance team fostering growth and an ability to advocate for Parexel's interests.



Kanika relaxing outside of work.

How would you describe what it's like to work at Parexel?
My overall experience at Parexel has been fantastic and I am grateful for the opportunities that have been offered to me throughout. It has a great work environment where people are productive, enthusiastic, and fun to work with. Parexel has always provided a sense of freedom and flexibility in my work which gives space for creativity, new ideas and versatility. The most important thing, the management here offers transparency which indeed is always delivered, and they not only focus on business growth but also consistently look to improve job satisfaction for an employee.

What excites you most about the work you do?
We are considered Chief Financial Officer (CFO) for our studies and a "one-stop solution" for finance-related queries, thus we work with multiple teams across the globe which provides immense opportunities to learn about the various processes, systems, and cultures. This is one of the most challenging roles I could imagine as it throws new challenges on a regular basis which opens the door for immense learning and opportunities.

Can you share with us an example of some of the work that you do, where you have gained a real sense of job satisfaction?
Maintaining "Forecast Accuracy" for our projects/portfolio within the accepted/prescribed threshold is a challenging task considering the uncertainties involved. I have set a target for myself to minimize the variance on a monthly as well as a quarterly basis. During the "month-end close" time, I review the forecast thoroughly and will challenge the operational team if required until I am comfortable with the forecast numbers. This seems an easy task, but it includes a lot of uncertainties. I think with proper planning, reviews, and justification/support from the operational team, we have set a trend for others that this is doable, and I have been rewarded with a forecast accuracy award as well. I feel empowered when I see such challenges in front of me and tackling them makes my job interesting, rewarding and satisfying to the core.

How has Parexel supported your career development?
Parexel has always provided me with many opportunities to grow personally and professionally by equipping me with valuable training, a mentorship program, and including me in different internal initiatives with top level management.

What do you enjoy when you're not at work?
I enjoy picking up my paint brushes and color pencils to draw or sketch. I also love to bake and cook new contemporary dishes for my family and friends.

Kanika out in nature.

What is your untrainable superpower?
I am extremely punctual and like to be "before" or "on time" but never "after".

What habit or behavior or belief have you recently acquired? Why is it now in your life?
I am a very anxious person by nature and by participating in meditation or relaxing doing yoga, has really helped to keep my mind calm.

Tell me three beliefs that you think would change the world for the better?
Not being indifferent towards people and situations; kindness; and harmony, would definitely change the world for the better.

Do you want to work with Kanika and her colleagues? Look for available Finance opportunities here.

Did you enjoy Kanika's story? If so, share it with your networks via the below links.