A day in a life of a Project Leader at Parexel
At Parexel, we are Project Leaders. We are innovating and accelerating our impact, putting our people, programs, and most importantly—our patients—at the forefront of what we do. Parexel's Global Project Leadership group consists of approximately 500 employees based throughout 35 countries worldwide. The role of a Project Leader is a critical part of driving success for our clients and advancing clinical research. Project Leaders put their hearts into executing sponsor projects/programs to the highest standards; while delivering them on time and within budget.
Get to know more about the role as a Project Leader from two Parexel colleagues: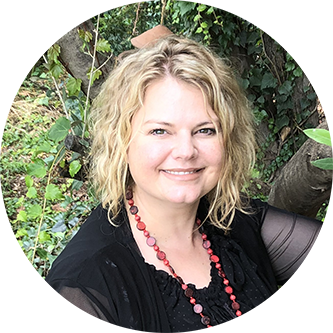 Christine Delport - Senior Project Leader
(South Africa)
I have been with Parexel in South Africa since 2004. I started as a CRA, and progressed to a Clinical Operations Lead (COL), GRO Line Manager, and then Functional Service Provider (FSP) Manager; which was a mix of a Project Manager and a Line Manager. After that, Project Leadership felt like the next step.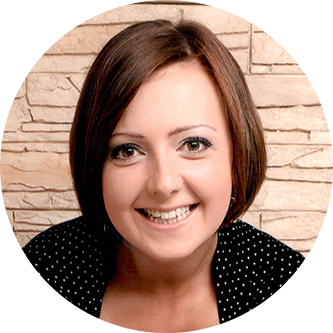 Ewa Hoffmann-Jensen - Senior Project Leader
(Germany)
I finished the Parexel Academy program in 2011. Afterwards, I worked at a smaller CRO but decided to go back to Parexel in 2012. I started as a Project Specialist, went on maternity leave, and came back as a Project Leader. I work in Biotech as my heart is on the Biotech side.
Why did you become a Project Leader (PL)?
Christine: All of my prior roles have given me the skills and experience to become a PL. The decision came because I really enjoy working on projects and working with people - the PL role offers the best of both worlds. This role gives a chance to connect with the clients and the wonderful people at Parexel across cultures, seasons, and different parts of the world. On a personal and a professional level this role has taught me a lot through constantly learning, growing, and expanding. And of course, through relationships, I enjoy inspiring and motivating others and being a mentor.
Ewa: During my Ph.D., I realized how bad leaders could be and I wanted to become one to be able to do it differently, to inspire and be inspired by people along with being able to motivate and mentor. Also, I enjoy being part of strategy creation. The role as a PL provides me with amazing opportunities for personal and professional growth. I am also involved with business development, which is very important for the company.
What do Project Leaders do?
Ewa: You must adjust every day accordingly to the new tasks that are coming in, new challenges, and your different teams. We often work on varying projects, so we must juggle tasks and time.
Communicate: We communicate in several ways, on various levels, and with many different people. Depending on what needs to be done or solved, our key contacts are clients, our teams, or senior management.
Resource and budget planning: We work on resources and maneuver around budgets, trying to work out the best way to stay efficient and profitable.
Parexel systems: We learn to understand the Parexel systems that PLs are working in, as well as other team members, to be able to support our teams with their projects.
Understanding clients: We need to learn and understand many different client "languages", to be able to translate client needs into goals for our teams. This is an important part, because very often the successful delivery of the project is connected to really understanding what the client needs are and why.
Solution finding: A PL does not need to know everything, but rather they need to know where to go, to whom to go, and where and when to search. We work with experts on our teams and can ask them when we need to know something specific.
Maintaining a work-life balance: A PL usually has multiple back-to-back meetings, so we need to make sure that we allow ourselves to take a break. It is important to make sure you take care of yourself so that you are motivated to go back to work the next day.
Having fun: We have fun with our amazing teams! I always worked with amazing teams at Parexel. PLs often stay cheery and happy for a purpose, to get our teams motivated! If I am going into teamwork in a negative state of mind, that pushes the whole team down.
What mindset does a Project Leader need?
Christine:
Remaining cool under stress: When there is a problem, the best way to solve it is to stay calm and provide information to help solve it. This reminds us that we are all in a project with the same goal in mind – to make it a success. Also, this is where understanding the client's "languages" comes in.
Ability to inspire and be inspired: Knowing that communication is key. It's important to work transparently with clients, share knowledge with project members, and connect on a deeper level.
Ewa:
Accelerated thinking: Being able to stay very quick on your feet and adjust to rapidly changing situations. There might be a change of plans that come up during a client meeting or need to prepare a Plan B in the background; all while working on solving Plan A.
Collaborative leadership: We work with people, for people. We need to make sure that we understand our teams, and that what we expect from someone else is what we would expect from ourselves. We need to understand the challenges our team members have, professionally and personally. We try to get to know our team members – what motivates them, what drives them, and where they might need help. We work together daily and go through the same things; so if we can get that bond as a team, lead through example, and make sure that people are not afraid to share ideas, then we have succeeded!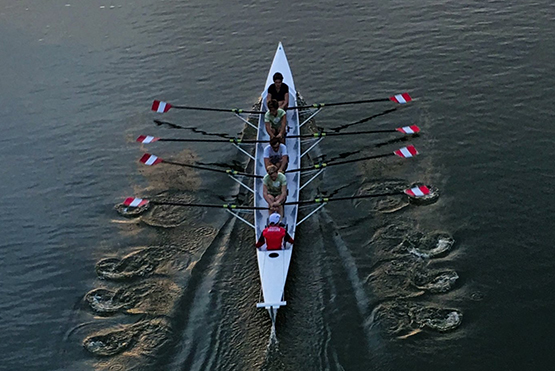 A Project Leader compared the role to being the Coxswain of a rowing boat, always providing the overview.
Photo by Sean Robertson on Unsplash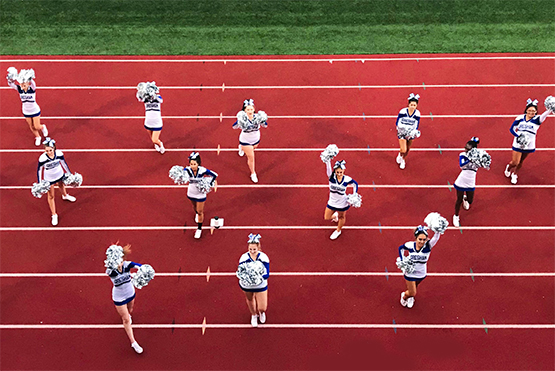 Another Project Leader compared the role to being a cheerleader to your team.
Photo by Rajiv Perera on Unsplash
What do you enjoy about your roles as Project Leaders?
Christine and Ewa: When we are part of something great that helps other people's lives, as well as building relationships with our teams and clients. When a project we are involved in is going to market, that is a blessing when we celebrate that as a team. It makes up for all the hard work, the pressure to submit results on time, and the challenges we faced during COVID. When projects may not go to market, it is great to be part of a team that is working towards the same overall goal, which is trying to find new ways to help patients.
What are the challenges of your role?
Christine and Ewa: Projects might get complicated very quickly due to the complexity of the challenges and required solutions. There might be firefighting needed in order to complete certain project activities on time, but Parexel has formulated ways to keep firefighting to a minimum. To keep us motivated in those situations we can reach out and chat with other PLs that may be able to share a good suggestion to solve our challenges. We may also have another project we are working on, that will give us a different perspective to come back to the challenges with a fresh mind.
What do you do to motivate your teams?
Ewa: When my team was working on a very challenging project, which somewhat demotivated them, I started sending a comic strip each Friday that made fun of difficult situations we have been through during the week. At first, the team wasn't sure what to think of it, but after a while, they were eager to receive the comic strip each Friday. This comes back to the huge importance of having fun at work, even when it gets challenging.
What support do Project Leaders have?
Ewa: It's not only us who provide support, but we also receive support through mentors. There is an entire group of people at Parexel that have been trained to be a mentor, and volunteer to help and support PLs with any questions. There is also our Line Managers, Project Directors and peers, as well as Superuser support. In addition, there are tools to help us, e.g., the Project Leader Handbook, weekly Project Leadership Bulletins, and a PL/PS blog.
Do you want to work with Christine, Ewa, and their colleagues? Look for suitable Project Leadership opportunities here.
Did you enjoy the insights? If so, share it with your networks via the below links.