Join us in our second headquarters in Durham, North Carolina!
Durham is part of the Research Triangle Region, known as the combined statistical area. The clinical research industry has grown notably in the Triangle in the past few decades, along with other companies such as Biogen and RO.
"North Carolina is one of the world's top centers for biotechnology and the life sciences," said N.C. Senator Floyd McKissick, Jr. "Our community, whether in academia, industry or government, will now rally around to support Parexel as it further expands in Durham."
The expansion in Durham County has been facilitated, in part, by a Job Development Investment Grant (JDIG) approved by the state's Economic Investment Committee. Over the course of the 12-year term of this grant, the project will grow the state's economy by an estimated $869 million; as well as bring 264 jobs to Durham over the next four years.
"North Carolina's leadership in the life sciences continues to attract the world's leading companies in drug discovery and development," said Governor Cooper. "Parexel helps bring life-saving therapies to patients across the globe and we're pleased North Carolina will propel their next phase of growth."
With 264 roles that will be opened at our headquarters, we will be offering a variety of positions.
These openings will provide an annual local impact of almost 30 million. "We welcome these new jobs and the innovative medicines this team will help bring to patients," said N.C. Representative Zack Hawkins.
Your new workplace!
Interested in joining the Parexel team in Durham or one of our other locations? Check out our Featured Jobs or visit Jobs.Parexel.com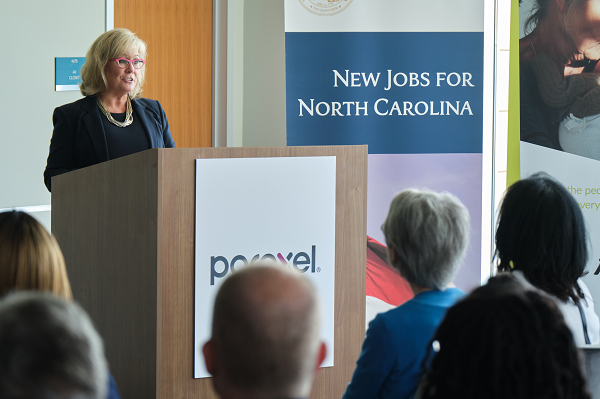 Announcement and reception
Peyton Howell, Chief Commercial & Strategy Officer, addresses the State of NC, Durham County, Durham Chamber of Commerce, and other local government officials, customers, and employees regarding Parexel's continued commitment to North Carolina and our continued growth in Durham.
Pictures of the office building and colleagues participating in "Light the night 2019"